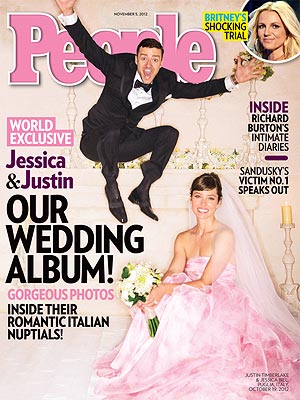 Welp, sadly it's official. Justin Timberlake has broken my heart.
When tied the knot this past weekend with Jessica Biel.
What does she have that I don't have?
Okay, so she's got a killer body, is a movie star, has big bank account, and climbed Mount Kilimanjaro for charity.
So what? Big deal.
I'm still in denial about this whole thing. I mean, it is around Halloween, are we sure this isn't some elaborate prank? You know he once liked to punk people.
In my mind this is a Trick!
Can we talk about how I'm not sure Jessica is good for Justin and his career.
Think about this....Since they started seeing each other he hasn't put out much music. Remember the albums Justified? FutureSex/LoveSounds? They were amazing. And then what? NOTHING.
He has, however, done a lot of movies. You know who are in movies? Actors. You know who is an actor? Jessica Biel.
Coincidence? I think not.
The wedding was reportedly in Italy.
Why Italy?
Well, from what I've read Jessica Biel's '7th Heaven' co-star, Beverly Mitchell was married in Italy and that's where she got the idea. Seems to me like this wedding was all about Jessica.
From what I know about Justin, which I think is a lot, I'm sure he would have been fine with a quaint ceremony in his hometown of Shelby Forest, TN outside of Memphis.
That's where we were going to get married.
And the pink dress!
She stole that idea from me!!!
I have always said that if I get married I was going to wear a soft pink gown.
Andd, another thing...
Why wasn't all the members of Nsync not invited?
I blame Jessica.
She's the reason WE are not going to have a Nsync reunion.
In all honesty, I'm really not so crazy as to think Justin Timberlake was going to marry me. I would've broke up with Colby if I thought he was looking to settle down.
Can we just rewind to the days when NSync just hit the radio with "I Want You Back," Justin had that top ramen like hair.
And Jessica Biel was on TV in '7th Heaven' far away from MY Justin.