Have you heard about the woman in New Jersey who was arrested New Jersey for bringing her daughter to the tanning booth?
If you haven't heard about it you can read the article
here
.
The article uses words such as "tanning devotee" and "well-bronzed." But I will let you be the judge.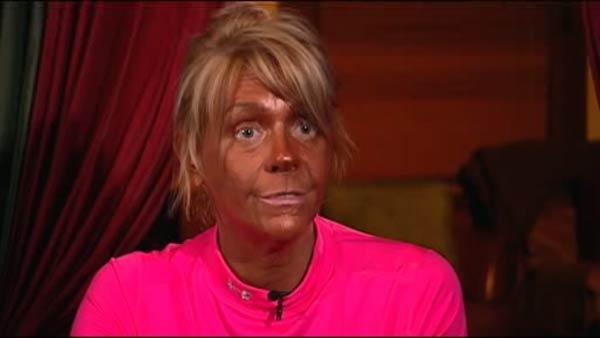 Here's a mother/daughter shot.
Now I assure you the color setting on your computer is not wrong... This ladies skin is in fact an orange-ish black. I have never seen this particular color before...
Does this woman thinks that she looks attractive?
I think she looks deep fried.
Or like she fell into a big vat of wood stain.
Or like she lives on the sun.
Or like Magda in Something About Mary.
Maybe she wishes she was an Oscar Meyer wiener.
Or is trying to get a job in Willy Wonka's chocolate factory.
Or trying to look like a purse.
One thing is for sure suddenly I want to snap into a Slim Jim.
Snooki has reportedly called his woman "crazy." What do you think????